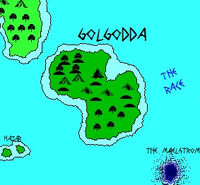 Golgodda is one of the inner islands, situated northeast of the Maelstrom. It is bordered the Sea of Storms to the north, the Race to the east, and the South Basin to the south and west. The nearest major islands are Culi Kori to the northwest, Dagwarth to the south, and Stormhold to the east.
Key Information
Edit
Physical Features
Edit
Golgodda is divided nearly evenly between a northwestern province and a southeastern province. These areas are described by some as Upper and Lower Golgodda, respectively, as the northwestern province is mountainous and hilly while the southeastern section is lower-lying and covered by large tracts of forest. On the northern side of the island, facing the Sea of Storms, there is a great bay with several deep harbors known as Storm Port.
Of Interest
Edit
See also Geography of Polaqu.
Community content is available under
CC-BY-SA
unless otherwise noted.